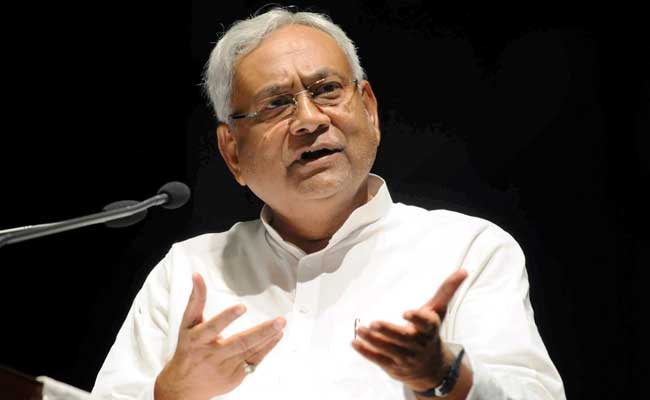 BENGALURU: 
Nitish Kumar, the Bihar Chief Minister whose track record as an administrator had been called into question last month, today chose a party meeting in Karnataka capital Bengaluru to send many messages to friends and foes back home.
Mr Kumar said there was an effort to divide people which had led to tensions across the country, a situation that had been made much worse by indiscreet statements by leaders. But he predicted that this could not continue for long.
The divisive politics, he underlined, would cost the country heavily.
"The country will progress only where there is harmony, peace and respect for each other, irrespective of community and religion. If we do not respect each other and establish an environment of peace, the country cannot progress," he said.
It is a message that the Chief Minister had tried to drive home this week in the presence of Prime Minister Narendra Modi and two union ministers, Giriraj Singh and Ashwini Choubey, who were seen to have made provocative statements in recent weeks.
The statements had made his task of controlling the communal clashes, which started out from Bhagalpur last month and then rapidly spread to at least five other districts, that much more difficult. Union Minister Ashwini Choubey's son Arijit Shashwat was blamed by the police for the illegal Ram Navami procession in Bhagalpur that allegedly triggered the initial violence. Mr Kumar had then come under sharp attacks for not arresting Arijit Shashwat for days.
The Chief Minister, who is in Bengaluru to address a meeting of his party Janata Dal United, blamed the media for its reportage of the recent communal violence that seemed to project as if Bihar was the hotbed of communal tension.
Mr Kumar attempted to set the record right.
"We established rule of law... We did not let the conflict turn into riots," he said, before going on to take a potshot at the opposition that had criticised the government "without seeing the work being done".
Mr Kumar's colleagues in his party say the chief minister's repeated statements on communal harmony were part of an effort to signal his aversion to letting anyone polarize the state for electoral dividends.