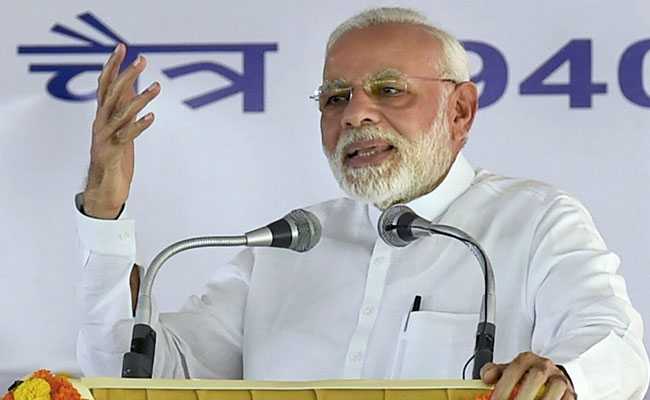 New Delhi: 
Prime Minister Narendra Modi led a day-long fast on Thursday, signalling to the Congress that it was the opposition that should take the blame for the recent parliament washout. PM Modi was joined by top Bharatiya Janata Party leaders Rajnath Singh, Prakash Javadekar, Mukhtar Abbas Naqvi and Piyush Goyal, as well as other BJP members of parliament, in observing the fast.
Campaigning in Karnataka, where assembly election will be held on May 12, BJP president Amit Shah joined his party colleagues in pinning the budget session washout on disruptions caused by the Congress.
"The Congress knew very well that they cannot debate in any of the houses, so they did not let the parliament function. The BJP was left with no choice but to go to the people as it is the biggest forum for us," Mr Shah said at a rally in the southern state where the BJP is backing its state chief BS Yeddyurappa to take the state from the Congress's Siddaramaiah.
The Congress does not believe in democracy as it does not even have an internal party democracy, Mr Shah said.
Most BJP Lok Sabha members sat on fast in their constituencies while Rajya Sabha members did so in their states.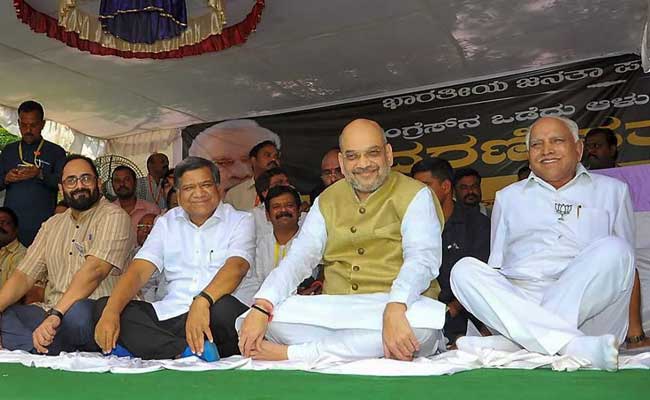 PM Modi said his party's leaders must work to expose opposition parties that had throttled democracy by stalling parliament proceedings during the budget session. "Those who couldn't gain power in 2014, don't want the country to move forward. They didn't let parliament work for a single day. They killed democracy and we will observe the fast to expose them in front of the world," he said through teleconference, addressing MPs to mark social reformer Jyotiba Phule's birth anniversary.Health Minister JP Nadda went to the prime minister's constituency Varanasi; Law Minister Ravi Shankar Prasad went to Patna, and Minister of State for Rural Development Ram Kripal Yadav went to Digha in Bihar to observe the fast led by PM Modi.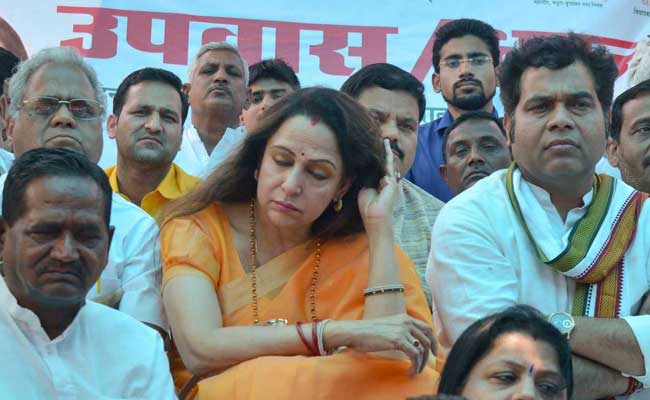 Defence Minister Nirmala Sitharaman was in Chennai while Prakash Javadekar was in Benguluru. Union minister Vijay Goel was in Tamil Nadu. Agriculture Minister Radha Mohan Singh was in Motihari in Bihar, Steel Minister Birender Singh was in Jind. Commerce Minister Suresh Prabhu was in Delhi. BJP general secretaries Bhupender Yadav, Anil Jian and Arun Singh were in Rajasthan, Chhattisgarh and Odisha, respectively.
Earlier this week, Congress leaders led by Rahul Gandhi had observed a day's fast at Mahatma Gandhi's memorial Rajghat to protest against the violence during a "Bharat Bandh" called by Dalit groups protesting against what they believe the dilution of a law meant to protect them from atrocities.